Custom Tier On Tier Shutters
Our Bayview Tier On Tier shutters are bespoke solutions that combine craftsmanship, luxury, and longevity. With decorative and shaped framing options that are made from exotic hardwoods and hybrid materials, our products give a timeless appeal to your spaces.
Designed to provide both style and functionality, the shutters are available in a range of customised options and can fit various interior spaces of your property.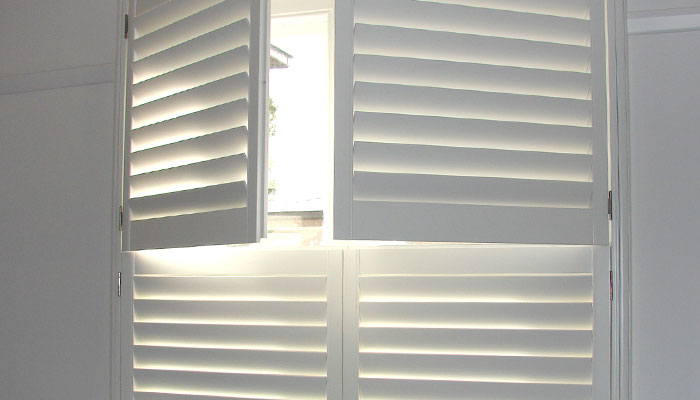 Defined Solutions To Your Needs
Bayview Shutters have been in the plantation shutter industry for more than a decade. We are dedicated to meeting the expectations and concerns of our customers through our range of products.
Therefore, our tier on tier window shutters include the following characteristics:
Complete control of light and mood
Comprehensive customisation options
No fuss and low maintenance
Insulated and economical
Family-friendly and versatile
Designed to fit various window sizes and shapes
While you can adjust tier on tier shutter blinds to allow natural light inside, they also give you the opportunity to avoid unwanted attention and noise, making them extremely adaptable depending on your needs.
We offer a versatile range of tier on tier products that will suit your wet, dry, and high usage spaces. Our products are a great addition to residential properties as we take pride in our shutters' cost, functionality, appeal, and durability.
Crafted from high-grade European Basswood, the shutters are highly durable. The usage of premium quality wood allows us to offer our customers unlimited shaped and decorative framing options.
Our shutters are available in a comprehensive palette of painted and stained colours. You can choose different styles of operable panels, shutters in different window shapes, blade types, and even blade tilt designs. The unlimited customisation option makes the Premium Basswood one of the most bespoke shutters on the market.
These shutters feature polyresin blades with an aluminium core, and polyresin frames. Due to hard wearing and moisture resistant characteristics, these shutters are an excellent choice for wet spaces, such as bathrooms, laundry, kitchen, and more.
The Thermo25® does not warp, chip, or crack and is, therefore, one of the most durable and long-lasting window shutters available on the market. They also show excellent insulation properties and are an excellent choice for energy-efficient window shutter solutions.
ThermoTec® is a hybrid window product that combines the characteristics of Premium Basswood and Thermo25®. You can get the best of both worlds as the window shutter delivers the decorative and shaping options of Basswood with the benefits of the hard-wearing capability of the Thermo25® blades
The shutters are available in comprehensive shapes and showcase excellent insulation properties – helping you to control the temperature as you see fit. The ThermoTec® shutters have a seamless, elegant finish as they are painted after they are assembled, further enhancing the desired aesthetic of your home.
Shop Our Range Of Hinged Shutters
Get your hands on our tier on tier shutters today using our online ordering system.
If you have questions or need assistance on choosing products, you can contact us on
(02) 9624 0700
or use our
ONLINE FORM
to reach out to our shutter specialists. They will guide you to choose the right window solutions based on your needs.