Thermo25 Plantation Shutters
Thermo25 poly plantation shutters are slim, elegant, and outstanding and have the power to lend an opulent look to any room in your home. They feature an aluminium core that passes through a polyresin blade, giving strength to the overall design.
Bayview Shutters is a renowned provider of high-quality Thermo25 polyresin plantation shutters that are designed to be stylish and strong. Our shutters are a practical addition to your home, and an ideal way to enhance the look of your home without spending too much. Also, our products have the quality to blend with most interiors and are the ideal choice for all styles of homes. They are resistant to chipping, cracking or splitting, and easy to care for.
We have a wide range of shutters that are designed to match the needs of various window shapes and sizes. From small to large to angled, all windows can find suitable shutters with Bayview Shutters. Other than this, we also offer bi-fold shutter, sliding shutters, bay window and more, contact us for consultation.
Where Can You Install
Thermo25 Plantation Shutters?
Thermo25 PVC plantation shutters feature a full polyresin structure that makes them moisture resistant. Thanks to this quality of the material, you can install them in your bathroom, kitchen, laundry, or any area with a high level of humidity.

Complete Privacy
Thermo25 PVC shutters give you the freedom to control the amount of privacy you want to give to your room. They also let you control the amount of light getting into your room. Installation of Thermo25 polyresin shutters helps keep noise and temperature at minimum, thanks to their excellent insulation.

A Wise Choice
Our Thermo25 polyresin shutters are hypoallergenic and environmentally friendly, so you know they are extremely safe for your home and the environment. Moreover, our products are aluminium reinforced, which means they are highly durable and designed to be a part of your home for years to come.
What to Expect from our Thermo25 Shutters?



Our Thermo25 shutters are available with wide elliptical blades measuring 63mm, 89mm and 114mm. They feature Aluminium Inserts for extra strength & durability.

To ensure durability and large panel spans of up to 900mm, Aluminium reinforced stiles with mortise and tendon are joined on top and bottom rails.

Our high-quality hinges are fully adjustable and designed with a removable pin to allow trouble free installation. Our hinges come in a range of standard colours or can be colour matched to your chosen custom colour.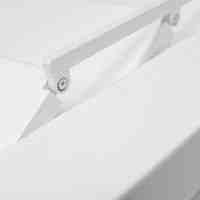 Our product features Clearview Tiltrod for easy operation and improved view.
Get in touch with a Distributor
We have many certified distributors who can help you choose the right product for your home. You can get in touch with them and enquire more about the features of our shutters. They can visit you to talk about these features and explain their benefits and provide you with an initial design and quote for your consideration. We offer services in Adelaide, Melbourne, Sydney, Canberra, Brisbane, Gold Coast and more locations.