Timber Plantation Shutters
Elevate Your Windows with Timber Plantation Shutters for a Classic Look
Looking for a stylish and functional way to update your windows? Plantation timber shutters are the perfect solution.
Plantation shutters made from timber make them incredibly durable and long-lasting. They are also available in various styles and finishes to suit any décor. Whether you are looking for a traditional or contemporary look, plantation shutters can add a touch of elegance to any home.
Plantation shutters add beauty to your home and offer practical benefits. They help regulate the amount of light and heat entering your home, leading to reduced energy bills. They also provide privacy and security and help reduce noise pollution.
Bayview Shutters can assist you in upgrading your windows with timber plantation shutters. We have a vast collection of shutters and can customise them to fit your windows perfectly.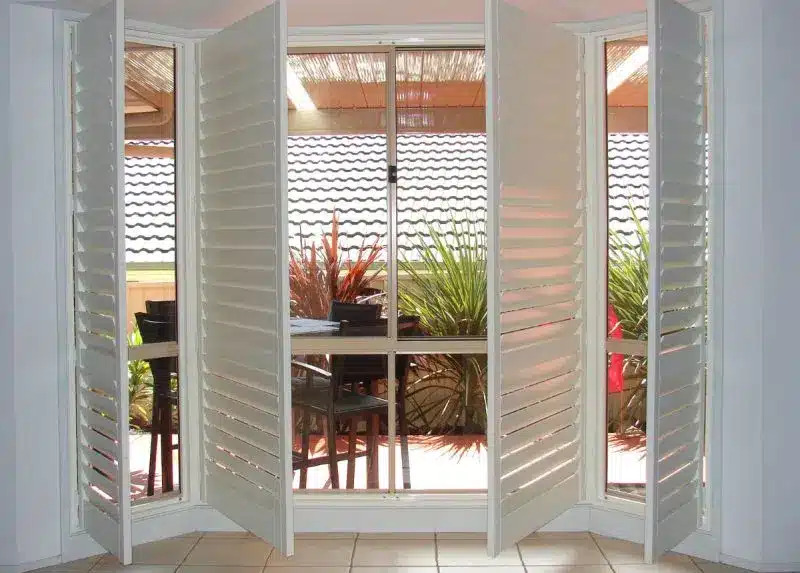 Captivating Features and Benefits of Timber Shutters for Windows
Timeless Elegance
Timber shutters exude a classic and sophisticated appeal that never goes out of style. Their natural beauty and warm tones create an inviting ambience, transforming your windows into stunning focal points that leave an impression.
Customisable Design
With an array of finishes, colours, and louvre sizes available, you can customise your timber shutters to match your unique interior style and preferences. Create a personalised look that perfectly complements your home décor.
Adjustable Light and Privacy Control
The adjustable louvres of plantation timber shutters give you complete control over the amount of natural light entering your rooms. You can effortlessly adjust them to let in just the right amount of sunlight while maintaining your desired level of privacy.
Enhanced Insulation
Timber shutters offer excellent insulation, helping to regulate indoor temperatures throughout the year. They keep your rooms cool in summer and retain warmth during colder months, leading to potential energy savings on heating and cooling costs.
Noise Reduction
Enjoy a peaceful, serene environment with timber plantation shutters. Their solid build and natural materials help to reduce external noise, creating a quieter and more comfortable space inside your home.
UV Protection
Protect your furniture, flooring, and interior decorations from harmful UV rays. Plantation shutters effectively filter out the sun's rays, preventing fading and damaging your cherished belongings.
Durable and Long-Lasting
Crafted from high-quality timber and built to withstand daily use, our plantation shutters for windows are durable and long-lasting. They offer an excellent return on investment, adding value to your property.
Most Popular Types of Timber Used for Plantation Shutters
Basswood
Basswood is a softwood known for its lightness and strength. It is a good choice for plantation shutters because it is easy to work with and can be finished in various colours.
Cedar
Cedar is a hardwood known for its durability and resistance to rot and decay. It is good for plantation shutters in coastal areas exposed to moisture.
Mahogany
Mahogany is known for its beauty and richness. It is best for plantation shutters in homes with traditional décor.
Teak
Teak is a hardwood with durability and insect resistance features. You can consider it for shutters in tropical climates.
Timber vs. PVC Shutters: Which Suits Your Needs Best?
Timber plantation shutters crafted from high-quality wood add a touch of elegance to any room. The natural grain patterns and rich textures of timber create a warm and inviting ambience, elevating the overall aesthetic of your interior. Beyond their aesthetic appeal, timber shutters are built to last, making them a long-term investment that withstands the test of time. Moreover, timber shutters provide excellent insulation, effectively regulating the indoor temperature and reducing energy costs.
On the other hand, PVC plantation shutters present an attractive and more budget-friendly alternative without compromising on style. Designed to mimic the appearance of their wooden counterparts, PVC shutters offer a sleek and modern look. Despite their lightweight nature, they are remarkably sturdy and durable, making them an excellent choice for busy households or commercial spaces. Additionally, these shutters are resistant to moisture and humidity, making them suitable for areas with high moisture content, such as bathrooms and kitchens.
Timber Shutters vs. Curtains: Selecting the Ideal Window Treatment
Curtains allow you to easily change their style, colour, or fabric to match your evolving preferences and seasonal décor. This adaptability ensures that your interior design stays fresh and up to date without requiring extensive renovations. Furthermore, curtains come in various patterns and materials, allowing you to create diverse looks for different rooms.
Beyond their aesthetic appeal, timber shutters are renowned for their durability, making them a long-lasting investment that enhances the value of your property. Additionally, shutters are low maintenance, requiring minimal effort to keep them looking pristine. Their easy-to-clean surfaces ensure they remain as beautiful as the day they were installed, saving you time and hassle.
Whether you prefer the ease of maintenance that timber shutters provide or the flexibility and versatility of curtains, Bayview Shutters has the perfect solution to elevate the beauty and functionality of your living spaces.
How Can We Help You With Your Timber Shutters Needs?
We offer various timber shutters and can custom make them to fit your windows perfectly. Our team of experienced professionals will work with you to understand your needs and budget, and we will ensure you get the perfect timber shutters for your home windows. Contact us today to schedule a consultation and learn how we can help you with your plantation timber shutters needs.